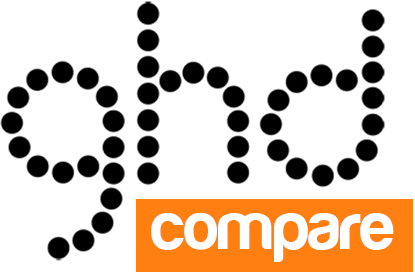 How to straighten your hair with a ghd Styler
Fri, 03 Aug 2012
by
Sally

Although ghd curls are very popular at the moment, the primary purpose of the ghd styler is still to create super sleek, straight hair without causing damage.
Straight hair will always be in fashion and shiny straight hair is still a red carpet favourite of celebrities such a Jennifer Aniston, Cheryl Cole and Angelina Jolie.
So what steps should you follow to ensure that you get the best from your ghd straighteners when straightening your hair?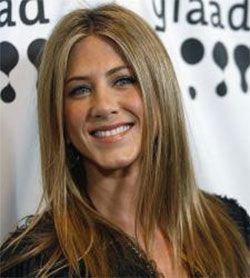 Straight hair is still a red carpet favourite of celebrities such a Jennifer Aniston
What you'll need
For best results when straightening your hair with a ghd styler, you will require the following.
ghd Styler
A good quality hair brush
A comb
Sectioning clips
For normal length hair you should use a Gold Classic styler and for long, thick hair you should use a Gold Max Styler.
The ghd Gold Classic Styler is perfect for straightening normal length hair
Step 1: Wash and blow dry your hair
First things first, you need to make sure your hair is squeaky clean and well conditioned, ready for straightening. Wash your hair using a high quality shampoo and conditioner, making sure to choose the right product for your hair type. There is a difference and your hair will be in better condition if you use a salon quality product. Look Fantastic have a great range of shampoos.
Lightly towel dry your hair and then blow dry. Again, a high quality hair dryer, such as the ghd Air will speed up drying time and leave your hair in better condition.
Step 2: Apply a heat protection spray
Once your hair is dry, you should apply a heat protection spray, to protect your hair from heat damage. For best results use ghd's own heat protect spray, which is specially designed for use with ghd stylers and contains the ghd heat protection system and conditioning agent.
Spray on the heat protector and then comb or brush through hair.
Step 3: Section hair
Before straightening with your ghd styler you should separate your hair into equal sections and layers.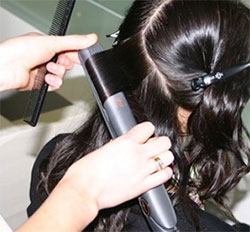 Straightening hair with a ghd IV Styler
Step 4: Straighten your hair
You are now ready to straighten your hair. Plug in your ghd styler and wait for it to heat up. The styler will bleep to let you know it is ready and normally takes around 30 seconds to reach optimal temperature. ghd stylers have ceramic technology, which ensures heat is evenly distributed across the plates and avoids 'hot spots'.
Select a section of hair and straighten from the root to tip. Clamp the styler around the hair at the root and gently apply pressure as you pull down. You should find that the styler will glide through hair without snagging or pulling and the thermal protector will ensure that your hair does not burn.
Take care when the styler is close to the scalp and around the ears, the ghd styler heats up to 180 degress after all!
Continue to straighten your hair until all sections have been straightened, or you have the look you require.
Optional: Apply finishing spray
To give your hair some extra sparkle, apply a shine spray after straightening.
Tip - while the heat protector spray will minimise damage, if you are like me and straighten your hair most days, you should think about buying an intensive mask to use once a week on your hair and replace lost moisture.
Follow the steps above and you will get fantastic results and super sleek, straight hair with your ghd styler every time.
Watch the video below for more and be sure to check out our guide to creating ghd curls.
Jennifer Aniston photo used under Creative Commons from Chesi - Fotos CC