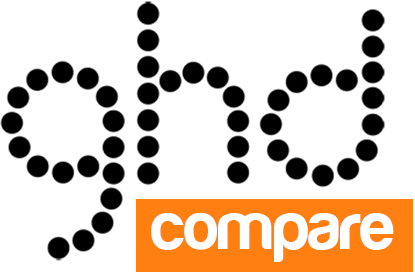 Home

/

ghd Eclipse Styler
ghd Eclipse Styler
Review by
Sally

Well, it's safe to say that we are exciting here at ghdcompare hq! The brand new ghd Eclipse Styler is the biggest innovation in ghds range, since the launch of the IV styler back in 2007.
ghd are marketing the Eclipse as a 'game changer' and this isn't just hyperbole as the styler really does take heat styling to a new level with a host of new technological innovations (which I'll explain in more detail below). It also gets rid of some of the few remaining irritations with ghd straighteners.
So, what is it that makes the Eclipse so amazing...
Well, the core of the new straighteners is something ghd are calling 'tri-zone technology', which is a brand new innovation unique to the new styler.
Tri-Zone Technology
One of the keys to achieving great results when straightening or styling is even distribution of heat across the plates of the straighteners. Ceramic technology went a long way to achieving this, but tri-zone technology takes everything a step further.
The plates of the styler contain six sensors (there are 3 on each plate), which maintain a constant temperature of 185 degrees at all times. 185 degrees is the optimum temperature for heat styling and this consistency will cut down styling time and ensure a smooth glide through the hair.
This new technology is particularly effective on coarse hair, which may have taken 3 or 4 runs through with the irons before to straighten. The tri-zone technology will ensure it will only takes one run to straighten the hair.
This even works on affro-carribean hair, which is notoriously difficult to straighten and there are some amazing video demonstrations on youtube from the ghd eclipse launch night.
One Size Fits All
With the effectiveness of the eclipse on styling thick, coarse and even afro-carribean hair, there is no longer a requirement for a wide plate iron.
Previously, if you had thick hair and didn't want to spend hours straightening, you had to turn to a wide plate salon styler (laterally known as max styler), but the ghd eclipse will do it all!
Cooler Body
The body of the styler features aerogel insulation to ensure it is just the plates that heat up and not the casing. No more burned finger tips!
So, is the eclipse a game changer? Well, we would have to say yes. This isn't just an upgraded IV, or gold, it really is a brand new styler, with brand new cutting edge technology. Once again, the hair styling revolution is here!
Pricing
The ghd eclipse styler is priced at an RRP of £195 and is available from selected salons and approved online retailers. Check out our price comparison above for the current best price on the styler.
Key Features
Tri-zone technology
Single stroke styling
Can style all hair types
Super fine, precision finished plates
More effecting heat
Cooler body
2 year guarantee
Need Help?
If you need help choosing your ghd styler, then read our ghd buying guide