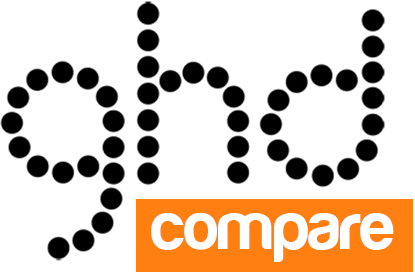 The Spice girls hairstyles now and then
Mon, 13 Aug 2012
by
Sally

The Spice Girls took to the Stage in London taxis
I'll tell you what I want, what I really, really want! Well, wasn't the Olympics fab and the closing ceremony topped it all off with an amazing celebration of British music.
The highlight for me, but also the saddest part was Gary performing with Take That. You could see how emotional he was and incredibly brave to go ahead with the show after suffering such a horrible tragedy last Saturday. The whole nation's thoughts are with Gary and wife Dawn.
On a happier note, it was great to see the Spice Girls back together again and they really got the party going. As a teenager in the 90s I was a huge fan of Take That and the Spice Girls, so it was amazing to see them performing on the same night. I was also a huge Oasis fan, but sad to say Liam's voice really isn't what it was. Think Noel would have been a better choice.
To celebrate the end of the Olympics, I thought it would be fun to take a look at how The Spice Girls have changed since their 1997 heyday.
Victoria Beckham (Posh Spice)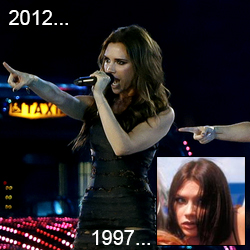 Victoria Beckham's hair has changed many times since 1997
Well Mrs Beckham is probably as famous for her ever changing hairstyle as she is for her music. Over the years we've had the 'Pob', the Pixie and many other styles too numerous to list here.
At the Olympics closing ceremony last night Victoria looked amazing with her long dark locks loosely curled, a huge contrast to her 1997 middle shed and curtains... a look that has certainly not aged well!
You can recreate Victoria's look from last night using a ghd Max Styler to create loose waves. If you really really want (get it!) to create her look from 1997, use a paddle brush and ghd Styler to straighten your hair and part in the middle.
Geri Halliwell (Ginger Spice)
I think it's safe to say Geri looks a lot better now!
What a contrast!
Geri looked amazing last night with shoulder length blonde hair and light, natural make up.
Back in 1997, although she was consistently voted the most fancied spice girl, her hair was mess of screaming orange and yellow with bright red lipstick and ott eye shadow.
In my opinion she actually looks younger 15 years later!
To create Geri's look from last night use your ghd styler to straighten from the root and then flick out the tips, to give a natural, effortless look. To create her look from 1997 go to a fancy dress shop and buy a wig!
Emma Bunton (Baby Spice)
Baby Spice is all grown up in 2012
Baby Spice is all grown up now and, like Victoria, sported long loose waves at the Olympics closing ceremony.
Back in 1997, Emma was famous for her blonde bunches, which I don't think she would be able to pull off at 36 years old! Her blonde is also lighter now and more natural looking.
For Emma's look use light pressure on your ghd styler to straighten from the root until level with your chin and then rotate the styler 180 degrees to create loose, flowing curls. For a baby spice look, straighten your hair and then put into 2 bunches with bobbles.
Mel C (Sporty Spice)
Mel C's hair is similar, but her fashion certainly isn't!
For someone who's image has changed so much over the years, Mel C's hair last night was surprisingly similar to the way it was back in 1997.
Her long dark hair is simply straightened and then sleeked back in a ponytail. Add some shine or gloss serum to finish the look. Quick and easy to create, but always elegant.
Although Mel C's hair is similar, her dress sense certainly isn't and Olympics or no Olympics, the 90s adidas 3 stripe track suits are now a thing of the past!
Mel C was always my favourite Spice and I think she looks as beautiful now as she did back in the 90s.
Mel B (Scary Spice)
Mel B is not so scary anymore
Mel B's long dark hair looked stunning last night with tight curls and subtle highlights. Back in 1997, Scary Spice was famous for her wild, untamed afro hair.
Use a ghd Gold Classic Styler, or mini styler with firmer pressure to create the tight curls, rotating the styler 180 degrees and pulling from root to tip.
With this look, Mel B should perhaps now be called Classy Spice, a far cry from her Bo Selecta' caricature!
So there we have it, just like me, the Spice Girls are now all grown up and whilst girl power is very much alive and well, in 2012 it has a much more sophisticated look to it. Amazing how time flies! Probably about time I take that Spice World poster down from my room...